To create a virtual assistant portfolio, gather client testimonials and create a website showcasing your services and skills. As the demand for virtual assistants continues to rise, having a strong portfolio that highlights your skills and services is crucial in attracting potential clients.
Whether you're a seasoned virtual assistant or just starting out, a portfolio can help you stand out in a competitive market. In this article, we will discuss the important elements to include in your virtual assistant portfolio, how to gather and showcase client testimonials, and how to create a website that showcases your skills and services. By the end of this article, you will have a solid understanding of how to create a professional and effective virtual assistant portfolio.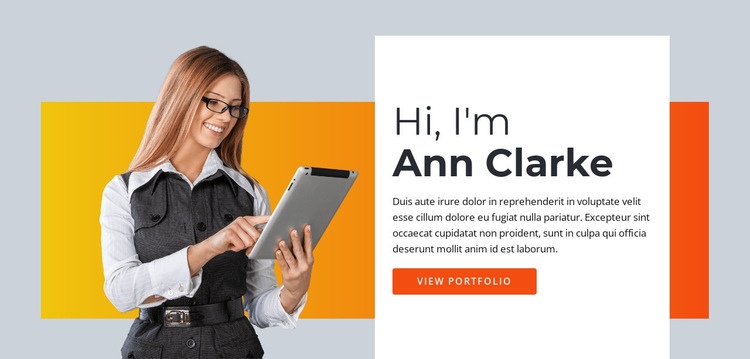 Credit: nicepage.com
Why Your Virtual Assistant Portfolio Is Important
Creating a virtual assistant portfolio is more than just compiling a list of your skills and experiences. It's a strategic approach to convince potential clients that you have the expertise to solve their problems and provide solutions that fit their needs.
That's why your virtual assistant portfolio is so important. In this post, we'll cover the key points about why your virtual assistant portfolio matters, and how to create one that showcases your skills and achievements.
Establish Your Credibility
Your virtual assistant portfolio can establish your credibility in the eyes of potential clients. It's an opportunity to show that you have the knowledge, skills, and expertise to effectively handle their tasks and solve their problems.
Highlight your past work experience, using real examples and case studies to illustrate how you've helped clients achieve their goals.
List your education and training, demonstrating the specialized skills and knowledge you have to offer.
Include testimonials from satisfied clients, leveraging the power of social proof to convince new prospects to work with you.
Showcasing your awards and recognitions, which can help to build trust and validate your competency.
Showcase Your Expertise
In addition to establishing your credibility, your virtual assistant portfolio can showcase your expertise in specific areas. This can help you to stand out from the competition and attract clients who need help with specific tasks or projects.
Focus on your niche or industry specialization, demonstrating your knowledge and expertise in that field.
Highlight your technical skills, such as software proficiency or online marketing skills and show how these skills can be used to solve particular business problems.
Highlight your achievements and positive feedback from previous clients, which can confirm your expertise in specific areas.
Demonstrate Your Communication And Interpersonal Skills
As a virtual assistant, your clients rely on you to communicate with them effectively and interact professionally with customers, vendors, and other stakeholders. Your virtual assistant portfolio needs to demonstrate your communication and interpersonal skills, as you can build long-lasting relationships with your clients through these skills.
Ensuring your language is conversational and easy to understand.
Providing clear and concise information on how you will communicate with clients, such as via email or phone, and when they can expect updates.
Highlighting the personalized services you provide, for example, detailing how you handle sensitive or confidential information and building trust so that clients feel comfortable working with you.
Demonstrating your exceptional customer service, highlighting how you can maintain a positive working relationship with clients.
Your virtual assistant portfolio is a key tool for showcasing your skills, experience, and expertise. It's not just a list of your abilities, but a strategic approach to building relationships with potential clients. By establishing your credibility, showcasing your expertise, and demonstrating your communication and interpersonal skills, you can create a portfolio that stands out and convinces prospects to hire you.
Defining Your Brand And Services
Creating a strong virtual assistant portfolio is essential when launching your career in this field. Your portfolio showcases your skills, experiences, and what your unique brand and services offer. Defining your brand and services is a crucial part of designing a winning portfolio.
In this post, we will explore three crucial steps that you need to follow closely to define your niche and services as a virtual assistant.
Determining Your Niche As A Virtual Assistant
Determining your niche is a crucial aspect of defining your brand as a virtual assistant. Your niche defines the service or industry in which you specialize. When determining your niche, you need to consider your experience, educational background, skills, and areas of expertise.
Determining your niche helps you attract clients seeking your services as a specialist.
Which industries am i most familiar with?
What are my professional strengths?
What are the services that i enjoy the most?
Which services am i trained to offer?
Defining Your Unique Selling Proposition
A unique selling proposition (usp) is a statement that describes what sets you apart from other virtual assistants. Your usp should highlight your unique strengths and the value that you bring to clients. You can tailor your usp to address the specific needs of potential clients.
Highlight the key skills that make you stand out
Focus on the services you offer to distinguish yourself from other virtual assistants
Demonstrate the results clients can expect when working with you
Identifying The Specific Services You Offer
The service offerings section of your portfolio defines the virtual assistant services you offer. It includes a detailed list of each service with a brief description of what each entails. Listing the specific services you offer helps to attract clients who need those specific services.
List all the services you offer as a virtual assistant
Describe each service and give a brief overview of what it entails
Group similar services to highlight your areas of expertise
Defining your brand and services is crucial when creating a virtual assistant portfolio. Identifying your niche, unique selling proposition (usp), and service offerings helps you attract potential clients that need your skills and expertise. Follow the tips discussed in this post, and you will be on your way to creating a winning virtual assistant portfolio.
Canva Portfolio (Virtual Assistant Portfolio, Freelancer Portfolio, etc)
Tailoring Your Portfolio To Your Ideal Client
As a virtual assistant, creating a portfolio is a crucial step in marketing your services. However, it's not just about showcasing your skills and experience. To make your portfolio stand out, you'll also need to tailor it to your ideal client.
Identifying Your Ideal Client
The first step is to identify your ideal client. This means figuring out the type of person or business that would benefit most from your services.
What industry do they work in?
What problems are they trying to solve?
What kind of personality do they have?
Once you have a clear idea of your ideal client, you can start creating a portfolio that resonates with them.
Understanding Their Needs And Pain Points
Next, you need to understand your ideal client's needs and pain points. This means identifying the specific problems they're facing and how your services can help.
What tasks are they struggling to complete?
Are they looking to save time or money?
Do they need help with a specific project?
Understanding your ideal client's needs and pain points will help you highlight the most relevant parts of your experience and skills in your portfolio.
Showcasing The Skills And Experience That Are Most Relevant To Them
Finally, it's time to showcase the skills and experience that are most relevant to your ideal client. This means focusing on the tasks and projects that align with their needs and pain points.
Only include relevant experience in your portfolio
Use specific examples to demonstrate how you helped previous clients
Highlight any specialized skills or certifications that are relevant to your ideal client
By tailoring your portfolio to your ideal client, you'll increase your chances of attracting the right kind of clients for your business.
Creating A Compelling Portfolio Layout
Creating a virtual assistant portfolio is a crucial aspect of establishing your online presence and attracting more clients. A portfolio showcases your abilities, skills, and experiences in a visually appealing and user-friendly manner. Creating a compelling portfolio layout is equally important because it makes your portfolio easier to navigate and helps to convey your expertise.
In this section, we will discuss the steps you need to take to create an eye-catching layout and design, choose the right platform and organize your portfolio for maximum impact.
Choosing The Right Platform For Your Portfolio
When it comes to designing an online portfolio, it is important to choose a platform that can showcase your work in the best possible light.
WordPress: a powerful content management system that allows you to customize your portfolio design and content. Although it requires more technical skills, you have much more control over your site's layout and features.
Wix: a user-friendly drag-and-drop website builder that offers a wide range of templates and designs to choose from. This platform allows you to create a portfolio website with ease, even if you have little or no technical knowledge.
Squarespace: a contemporary, minimalist platform known for its elegant designs and user-friendly interface. It is ideal for those who focus on visual aesthetics and require an intuitive design.
Creating An Eye-Catching Layout And Design
Designing an eye-catching portfolio layout requires a careful balance of creativity and functionality.
Choose a simple, clean layout that is easy to navigate.
Use high-quality images to showcase your work. Ensure the images are optimized for web use.
Use typography that is consistent and easy to read.
Emphasize your most important work by featuring it prominently on your portfolio page.
Use color strategically to draw attention to key elements.
Organizing Your Portfolio For Maximum Impact
The way you organize your portfolio can make a significant difference in its effectiveness.
Arrange your work in a logical, intuitive way. You might consider organizing it chronologically, by project type, or by skillset.
Remove any work that is outdated, irrelevant or weak. Only showcase your best work.
Add context to your work by including a brief description or backstory behind each project.
Ensure all links and buttons function seamlessly, and the portfolio is mobile-friendly.
Highlight your skills and achievements to give potential clients a clear sense of what you offer.
Creating an appealing portfolio layout is essential for any virtual assistant looking to attract clients and showcase their abilities. By selecting the right platform, designing an eye-catching layout, and organizing your portfolio strategically, you can set yourself apart from the competition.
Follow the above tips and create a portfolio that not only reflects your skills but also stands out from the crowd.
Showcasing Your Skills And Experience
Creating a portfolio is an essential step for anyone who wants to establish themselves as a virtual assistant. If you want to showcase your skills and abilities, a portfolio is the best way to do it. You can feature your work history, demonstrate your abilities, and attract potential clients.
However, creating a portfolio does require some strategic thinking and planning. In this blog post, we will take a look at how you can create a virtual assistant portfolio that showcases your skills and experience.
Choosing The Right Samples Of Your Work To Showcase
When it comes to creating a virtual assistant portfolio, it's crucial to choose the right samples of your work to showcase. You want to provide potential clients with a taste of your capabilities, so be strategic about the samples you include.
Choose samples that demonstrate your skills: pick examples that showcase your strongest skills and abilities. Ideally, these should be the skills you most want to use in your va business.
Highlight projects that match your niche or target market: if you specialize in a particular niche or industry, include samples that are relevant to that niche. This will help show potential clients you have experience working in their industry.
Show examples of different types of work: if you have experience in a variety of tasks, include samples that demonstrate different types of work. This will help illustrate your versatility and flexibility.
Putting Together A Compelling Case Study
A case study is an excellent way to showcase your skills and experience. A case study tells the story of a problem you solved or a challenge you faced, demonstrating your abilities in action.
Start with a problem or challenge: describe the problem that your client was facing, and explain why it was a challenge.
Explain your approach: describe the process you used to solve the problem and why you chose that approach.
Demonstrate your results: highlight the outcome of your work, focusing on the positive results. Share any data or statistics that you can to support your claims.
Highlighting Client Testimonials And Success Stories
Client testimonials and success stories are powerful tools for demonstrating your abilities. They provide social proof that you have the skills and experience necessary to help clients succeed.
Be selective: choose testimonials and success stories that showcase your best work. Highlight those that discuss specific results or outcomes.
Use quotes: include quotes from your clients that highlight the positive results they were able to achieve with your help.
Focus on the impact: make sure that you describe the impact of your work. Show potential clients how your services have made a difference in the lives and businesses of your past clients.
By following these steps, you'll be able to create a virtual assistant portfolio that showcases your skills and abilities. Remember, your portfolio should be an ongoing project that you update regularly to stay current and provide potential clients with the best possible representation of your skills.
Good luck!
Frequently Asked Questions On How To Create A Virtual Assistant Portfolio
What Is A Virtual Assistant Portfolio And Why Do You Need One?
A virtual assistant portfolio is a collection of your best work samples, skills, and experience. It showcases your abilities to potential clients and helps you stand out from the competition. Creating a portfolio also helps you identify your strengths and areas for improvement.
How Do You Create A Virtual Assistant Portfolio From Scratch?
To create a virtual assistant portfolio from scratch, identify your niche, determine your target clients, gather your work samples, and showcase your skills and experience. Use online platforms like linkedin, upwork or your own website to display your portfolio.
What Are Some Examples Of Work Samples To Include In A Virtual Assistant Portfolio?
Examples of work samples to include in a virtual assistant portfolio are previous client testimonials, relevant certifications, project case studies to showcase your skills and achievements, and screenshots of your best work.
How Do You Showcase Your Skills And Experience In A Virtual Assistant Portfolio?
Showcase your skills and experience in a virtual assistant portfolio by being specific about the tasks you have accomplished and the skills you possess. Highlight your problem-solving skills, ability to work under pressure, and effective communication with clients.
How Do You Make Your Virtual Assistant Portfolio Stand Out?
To make your virtual assistant portfolio stand out, create a visually appealing presentation with clean design, use easy-to-read fonts and colours that complement your niche. Highlight your niche specialties, showcase your client testimonials, and clearly state the services you offer.
Keep your portfolio updated with current information and new work samples.
Conclusion
Creating a virtual assistant portfolio is not just about showcasing your skills and experiences to clients, but it also shows your passion and commitment to the job. As we've seen throughout this guide, there are many steps involved in creating a professional yet unique and personalized portfolio.
We've learned about the importance of identifying your niche, choosing your best projects to showcase, highlighting your skills and expertise, showcasing your customer satisfaction rate, and optimizing your portfolio for search engines. Implementing these tips will undoubtedly put you ahead of the competition and help you land your next client.
Remember, a portfolio is not just a presentation of your work; it's a tool that can take your virtual assistant career to the next level. So, take your time, be creative, and let your portfolio reflect your best self.